Original: Hōhokekyo tonari no Yamada-kun (1999) von Isao Takahata
Mit diesem Film begann im Studio Ghibli das digitale Zeitalter, es ist der erste des berühmten Animationsstudios, der komplett ohne die analog bemalten Cels auskam. Doch wer jetzt eine überschwängliche 3D-Welt erwartet, wird komplett enttäuscht: My Neighbors the Yamadas ist im Stil einfacher Wasserfarben- Skizzen gehalten und erinnert fast ein bisschen an ein Storyboard.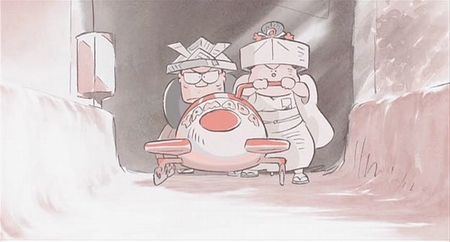 Zu Beginn werden uns die Mitglieder der Familie Yamada vorgestellt, mit deren Leben und Zusammenleben sich der Film in einer Reihe von Episoden beschäftigt: Die Eltern Matsuko und Takashi, die Tochter Nonoko und der Sohn Noboru sowie Oma Shige. Eine durchgehende Handlung ist nicht vorhanden, vielmehr werden in einzelnen Szenen aus dem Alltag die Tücken des Ehe- und Familienlebens aber auch seine schönen Seiten thematisiert.
Die meisten der Episoden sind herrlich komisch, etwa wenn Matsuko und Takashi in einem "Fechtkampf" mit Fernbedienung und Zeitung austragen, wer das Fernsehprogramm bestimmt, oder wenn Shige und ihr Sohn über Haus und Grundstück streiten und plötzlich Enkel Noboru ein "Was streitet ihr euch, am Ende gehört sowieso alles mir" dazwischenwirft. Viele der Szenen dienen aber auch dazu, die Charaktere zu beleuchten, hintergründige Alltagsweisheiten zu vermitteln oder zum Nachdenken anzuregen. In diesen Fällen steht am Ende der Episode ab und an ein Haiku von großen Meistern wie Basho oder Buson und eine leichte Melancholie liegt in der Luft.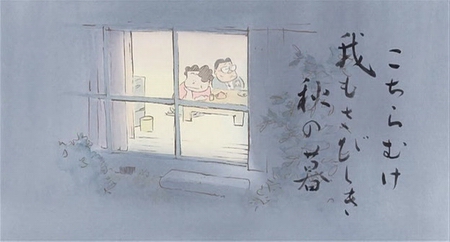 Das wunderbare an My Neighbors the Yamadas sind die liebenswert chaotischen, schrägen Personen, in denen sich jeder ein Stück weit wiedererkennt und mit denen die Identifikation deshalb sehr leicht fällt, sowie seine Allgemeingültigkeit. Abgesehen von ganz wenigen Szenen, in denen spezifisch japanische Traditionen im Mittelpunkt stehen (aus dem Stehgreif fällt mir da jetzt nur ein, wie Takashi einen neuen Rekord im Verteilen der Neujahrskarten aufstellt), ist jeder Zuschauer mit den Situationen vertraut. Sei es aus seiner eigenen Jugend wie im Falle Noborus (Schulstress, erste Liebe), dem Arbeitsleben Takashis oder der eigenen Familie: Die kleinen, alltäglichen Reibereien im Zusammenleben von Mann und Frau, Eltern und Kindern. Diese werden immer originell und ohne Partei zu beziehen dargestellt.
Regisseur Takahata, Schöpfer des unvergesslichen Hotaru no haka, zelebriert hier regelrecht die Freuden aber auch Merkwürdigkeiten des Familienlebens und geht damit auf die Familienmüdigkeit vieler – gerade junger – Menschen ein und führt ihnen gleichzeitig eine andere Perspektive auf die Familie vor Augen. Mit dieser Thematik und der ungewöhnlichen Ästhetik des Films stellt er eindrucksvoll seine außergewöhnliche Vielseitigkeit unter Beweis. Ein wunderschöner, unterhaltsamer Film voller kleiner Wahrheiten, wahrhaftig ein Film für die ganze Familie, der seine ganzen Magie aber wohl nur in der japanischen Originalversion entfalten kann.