Zatoichi goes to Criterion
14 Sep
Lange Zeit war es ruhig an der DVD- und Bluray-Front, keine herausragenden Neuveröffentlichungen den ganzen Sommer über. OK, Eureka hat ein paar altbekannte DVD-Ausgaben großer Kaneto Shindo-Klassiker als BD neu aufgelegt (Kuroneko, Onibaba, The Naked Island) und die sollen auch nicht unerwähnt bleiben. Aber so richtiger Neuigkeitswert war das irgendwie nicht, noch nicht einmal im Sommerloch. Doch jetzt kommt der absolute Kracher des Jahres 2013!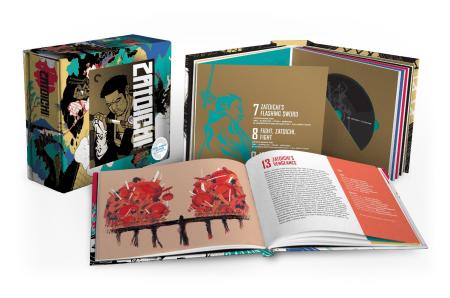 Die Criterion Collection wird am 26. November eine Zatoichi-Box veröffentlichen mit 25 Filmen des legendären, von Shintaro Katsu gespielten blinden Schwertkämpfers. Die atemberaubend gestaltete Dual-Format-Box enthält insgesamt 27 Discs, davon 9 Blurays! Zu den Filmen kommen eine Dokumentation über Katsu, Interviews, Trailer sowie ein Buch im Hardcover, das neben Zusammenfassungen der Filme und Essays auch von den Filmen inspirierte Illustrationen 25 verschiedener Künstler enthält. Dieses Hammer-Paket kann derzeit schon bei Amazon.com zum Preis von 202 $ vorbestellt werden – nach Umrechnung, Versand und Zoll dürfte das auf ca. 250 Euro hinauslaufen. Das klingt erstmal nach ganz schön viel, aber man bekommt natürlich auch heftig was auf die Augen! Das Teil sollte der Weihnachtsmann sich vormerken 😉
Außerdem wird es ebenfalls von Criterion eine Neu-Auflage von Tokyo Story im Dual-Format geben. Die Scheibe soll am 19. November erscheinen und kann für 36 $ vorbestellt werden.
Und last but not least hat Third Window Films gerade letzte Woche zwei frühe Filme von Kiyoshi Kurosawa herausgebracht: Eyes of the Spider und Serpent's Path, zwei Thriller aus dem Jahr 1998. Die beiden Filme kommen als Bundle auf einer DVD und sind bei Amazon UK für 10 Pfund zu haben. Und bereits Ende August erschien Sion Sonos neuestes Werk The Land of Hope über eine von der Fukushima-Katastrophe betroffene Familie, das ebenfalls für 10 Pfund zu haben ist.